Valentine's Day is for sweets and sweethearts. What better cookbook to bring you this week but one chock full of delectable delights?
Jenna and Ashley grew up baking alongside their mom and developed a sweet tooth along the way. Leaving their potentially lucrative (and some may say sensible) careers behind, they came together to open a bakery that became successful very quickly. Fast forward and you'll find a burgeoning business of creative and business-savvy minds providing Winnipeg with amazing treats.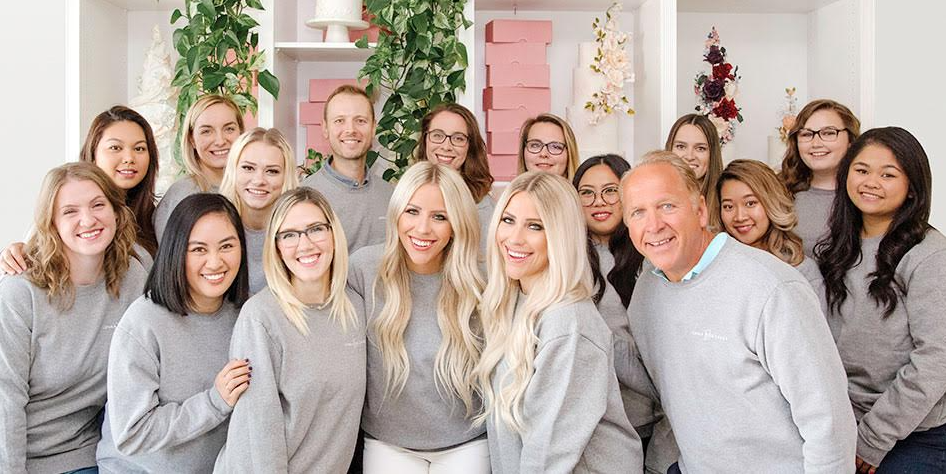 Having a staff of over 50 people behind the brand and three retail locations, Jenna and Ashley can look beyond Winnipeg to ply their brand.  With successes like having cakes on Martha Stewart's magazines, you know the brand has international appeal.  And they're all over social media with hundreds of thousands of followers. Check them out at: https://www.instagram.com/jennaraecakes/ Be sure to see them on Food Network Canada.  Both Jenna and Ashley are judges on Wall of Bakers – https://www.foodnetwork.ca/food-network-insider/blog/wall-of-bakers-meet-the-cast/ 
With this kind of success, producing a cookbook and guide for bakers seemed the logical next step in the business plan. And we're glad they did! I love that the ladies preface their book with instructing us to play with the ingredients, mix and match flavours, and make changes that suit our tastebuds. But of course, there are some basic rules about baking that doesn't always apply to savoury cooking. Overmixing batter is a no-no for many sweets, ensuring you have the tools of the trade to decorate a cake beautifully, and attention to details like formulating the skin on a macaron will ensure you come out with a successful product. Jenna holds your hand with "Baker's Tips" for each section and every recipe.
Together with all these great instructions, are the beautifully laid out and photographed pictures of work in progress as well as the finished delight. Ashley brings her magazine design background to the pages to entice us to be creative with our baking. She provides tips on how to stage the dish or table to ensure the best Instagram-ready photo and then how to lay out the grid on your Instagram page so its cohesive and alluring.
With all the success that the business has brought, Jenna and Ashley give back to their community with a monthly focus on an area of need. Whether its supporting Breast Cancer Month in October with their very popular boob maracron or fitting children with coats, hats and mitts with Koats for Kids drive in December, the ladies respond to what is happening in their community. See their monthly blog highlighting the different initiatives at https://www.jennaraecakes.com/currently/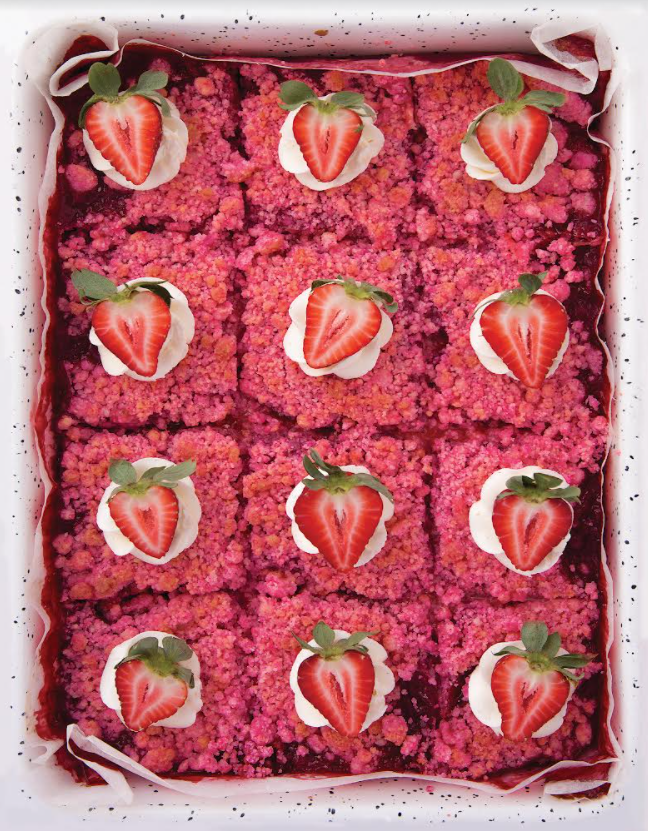 Ready to try your hand at a Jenna Rae creation? Go to our Recipe section and make Strawberry Shortcake Party Squares – one of their easier recipes and quite versatile. This red creation is perfect for Valentine's Day!
Want to purchase ready made treats? https://www.jennaraecakes.com/order-online/ is where you'll find their online store. You can also scout for Jenna Rae products at locations near you: https://www.jennaraecakes.com/where-to-find-jrc-near-you/
Purchase their book from their online store or try to win a copy in our Giveaway section…you'll be truly inspired!
Content and images used with permission by authors Jenna Hutchinson & Ashley Kosowan, Jenna Rae Cakes and Sweet Treats. www.jennaraecakes.com