Many of us have lived through the evolution of food and cooking. From stovetops and canned food, to boxed dinners in the microwave, and finally to the fresh ingredients that we enjoy today…one person has been there to inspire us in our Canadian culinary journey – Jamie Kennedy.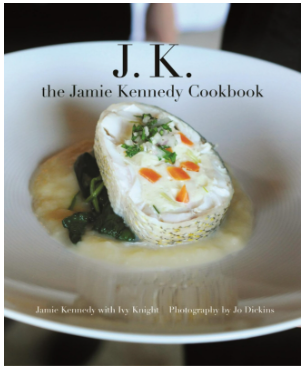 You may find two different covers of this cookbook – but the delicious recipes and stories inside the book are the same. Jamie opens up his culinary world taking us backstage to his restaurants and personal life. Dividing the book by seasons, we see plates of food reflecting the freshest of ingredients sourced locally. As we head into the spring and summer months, open up your culinary world by trying new fruit, vegetables and protein and expand your palate. Let this book inspire and guide you!
Since it's Easter and we'll be celebrating with family and friends, Jamie provides a double presentation of lamb that will have your guests enjoying this classic spring protein. Go to our Recipe section and try the Navarin and Chop of Lamb – delectable!
Peppered throughout the book are insights from people Jamie has worked with and pictures of both his farm and workplaces. I love reading the back stories of people and places that inspire great food. This book is chock full of them. 
Looking for something fun at your next event? Jamie has a Fry Truck that will wow your guests with his amazing take on this humble vegetable – check it out at https://jamiekennedy.ca/pages/j-k-fries If you find yourself in Prince Edward County, look for his truck at the Wellington Farmer's Market (at the United Church).
A beautiful book you'll reference time and again – get a copy at https://jamiekennedy.ca/products/the-jamie-kennedy-cookbook or win the book in our Giveaway section!
Images and content from JK: The Jamie Kennedy Cookbook by Jamie Kennedy with Ivy Knight ©2014 by Jamie Kennedy. Photography ©2014 by Jo Dickins. Published by HarperCollins Publishers Ltd. All rights reserved. https://www.harpercollins.ca/9781443419000/jk-the-jamie-kennedy-cookbook/