Author Caroline Adderson has produced a whimsical look at the world of sweet treats with an underlining message. So relevant today, she brings home the point that although we may all have our personal viewpoints and philosophies, we can bridge the gaps by working together. And who facilitates that union? A child, of course!
A prolific adult-genre writer, Caroline expanded her skills into kid-lit with many titles now in her repertoire including It Happened on Sweet Street. She branched into writing for children when her own son was five and has enjoyed developing characters and plots for the wee ones. https://www.carolineaddersonkids.com/books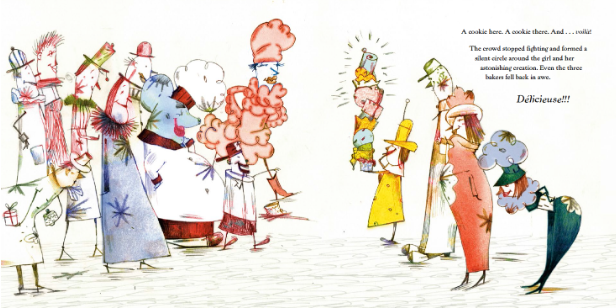 Her inspiration for this book? "People seem to be very decided in their dessert preferences: cookies, cake, or pie. Asking someone to put them in order is almost a personality test! (Me: #1 cake, #2 pie, #3 cookies.) A book about favourite desserts seemed bound to appeal to hungry readers of all ages. Of course, It Happened on Sweet Street is about much more: respecting the opinions of others, finding creative solutions to disagreements, and, yes, French, of which I have been a life-long intermediate student."
The book is beautifully illustrated by Montreal's Stephane Jorisch and is reminiscent of Madeline – a character I loved growing up. His illustrations bring to life Caroline's play on words like, "Within minutes, Sweet Street became a massacre of cream, a catastrophe of meringue, a devastation of crumbs." My dad would have loved the reference to a shoemaker – his occupation for over 40 years. A book any child, and adult, will love!
Caroline provided a recipe for Piskota Tora that was given to her by her son's Hungarian babysitter, who made it for him on his birthday.  After she passed away, Caroline continued the tradition. A fabulous dessert for Easter or anytime – whip it up from our Recipe section. This is a popular dessert for Easter and then you can bring it out again when strawberries are fresh and in season. Every European baba has a version of this delectable dessert…basically a sponge cake with different fillings, depending on the season. The Hungarians also have a Piskota Torta that is torte base and is wonderful with strawberries as well. 
Win a copy of this adorable book in our Giveaway section or order a copy or two for your wee ones at https://www.carolineaddersonkids.com/books/it-happened-on-sweet-street 

Contents and images used with permission by author Caroline Adderson https://www.carolineadderson.com/ and Penguin Random House Canada https://www.penguinrandomhouse.ca/books/546275/it-happened-on-sweet-street-by-caroline-adderson-illustrated-by-stephane-jorisch/9781101918852