It's summertime and what better way to enjoy the warmth and sunshine but with a scoop of artisan ice cream. We've tried many of the traditional flavours but why not be adventurous this summer, and try something new? In steps Great Scoops to guide you through making your own ice cream and playing with the flavours. https://shop.themerrydairy.com/products/great-scoops-recipes-from-a-neighborhood-ice-cream-shop 
Authors Marlene Haley and Amelia Ryan combined their knowledge and expertise in this book to ensure your friends and family enjoy a scrumptious lick of goodness. We are introduced to all the tools of the trade and the ingredients necessary to get you started in making your own ice cream. We then go through the seasons with ice cream honouring flavours unique to the four cycles of the calendar. Great Scoops also includes recipes for ice cream desserts that will be a welcome treat on any hot summer day!
We wanted you to try the Tiramisu Ice Cream in honour of Little Italy festivals happening across the country in early June. Check it out in our Recipe section – eat the ice cream on its own or use it in a traditional Tiramisu dessert…both ways will leave you feeling like you just left Veneto in northeastern Italy.
How did this book come about? Marlene Haley introduced her gourmet ice cream to Ottawa by way of a food truck. From there, The Merry Dairy expanded into a storefront location and both the truck and store became the happening thing in our nation's capital. In stepped Amelia Ryan with her business degree and the two moved the enterprise on to bigger things.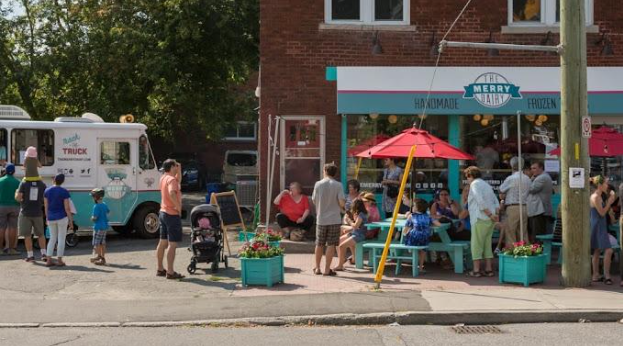 Purchase a copy of this book before the summer gets in full swing and start whipping up amazing delights for family and friends at https://shop.themerrydairy.com/products/great-scoops-recipes-from-a-neighborhood-ice-cream-shop or go to our Giveaway section and win a copy!
The Merry Dairy is the home of Great Scoops – check out its many flavours the shop is dishing out. Picture these palate pleasers: hibiscus passion fruit, earl grey and shortbread, blueberry toaster tart, and my favourite – black forest! I may have to visit and park myself outside the door and try a different flavour every hour – they look magnificently delectable! https://themerrydairy.com/flavours/
Drop by the store and enjoy a cone of your favourite flavour or take home a pint or two to enjoy later. The location is 102 Fairmont Avenue (corner of Gladstone) in Otttawa or check out their food truck locations at https://themerrydairy.com/ The truck is also available for events and fundraisers – what a great idea to draw people to your fun day!
Looking for what's happening at The Merry Dairy and their food truck? Check out these events:
Store special events:
Rhubarb still going on
Pride month in June
Mint exchange in July
Anniversary of TMD in August
Teaming up with The Dolly Pastries in August
Truck events:
NFL Youth Festival – June 24th
RPUC Indigenous Fundraiser – June 25th
Memorial Car Show – July
Every Wednesday in July for Cystic Fibrosis – Summer nights
St Anthony's Angel Fundraiser – July 30th
Hip Hop Festival – August 12
Belly High Fundraiser – August 30
See you for a lickin' good time!
Contents and images from Great Scoops: Recipes from a Neighborhood Ice Cream Shop by Marlene Haley and Amelia Ryan of The Merry Dairy with Anne DesBrisay. Photographs by Christian Lalonde. Copyright 2022 by The Merry Dairy. Excerpted with permission from Figure 1 Publishing. All rights reserved. No part of this excerpt may be reproduced or reprinted without permission in writing from the publisher. https://www.figure1publishing.com/book/great-scoops/