From cookbook author and owner of the cooking school, A Dirty Apron, David Robertson entices us to gather around the table and enjoy food, fun and friendship. If there's something the pandemic has taught us, it's that connection with each other is vitally important and what better way to reignite the sense of belonging but gathering around a table of simple, satisfying soulful food.  https://www.dirtyapron.com/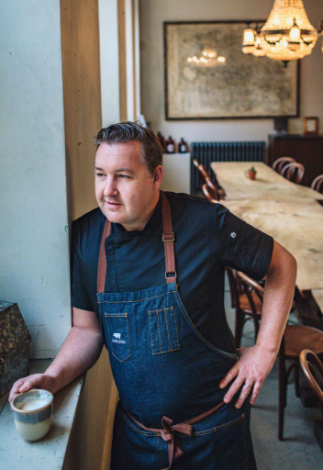 David first provides a list of "mise en place" ingredients every home cook should stock in their fridge and pantry. He then takes us on a journey elevating simple recipes with just a little twist of international flavours to make each presentation special. Whether its Moroccan lamb, Avgolemono soup or Spanish meatballs, you'll feel like an accomplished cook with each recipe you try.
As we move our entertaining outdoors, we thought you'd like to try David's Pan-Seared Halloumi Cheese and Caramelized Fennel with Orange-Pomegranate Reduction in our Recipe section. Paired with a glass of Chardonnay, this dish will satisfy the vegetarian and carnivore alike. You can't go wrong with fried cheese!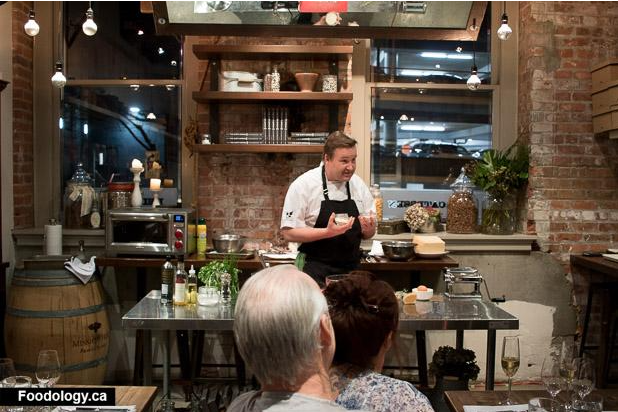 The popularity of The Dirty Apron cooking classes can be seen in the number of people that have enjoyed their time learning in this kitchen…over 10,000 students have passed through their stainless-steel counters to produce delicious food. Inspired to take home some of their speciality foods? Drop into their delicatessen and pick up charcuterie pieces, ready made lunches or a gift box for your favourite foodie. Located on Beatty Street in Vancouver makes The Dirty Apron accessible to locals and tourists alike.
Order a copy of Gather at https://www.dirtyapron.com/shop/shop or go to our Giveaway section and win the book!
Contents and images from Gather: A Dirty Apron Cookbook by David Robertson. Photographs by Kevin Clark. Copyright 2019 by The Dirty Apron Cooking School. Excerpted with permission from Figure 1 Publishing. All rights reserved. No part of this excerpt may be reproduced or reprinted without permission in writing from the publisher. https://www.figure1publishing.com/book/gather/