March is national nutrition month and we wanted to share the best cookbook on the subject: Dietitians of Canada Cook! We're here to dispel the myth that eating healthy means no flavour or boring dishes. Look at the Mini Praline Cheesecakes we brought you in the Recipe section – a huge hit in our family!
Author Mary Sue Waisman managed her own consulting business All About Food Nutrition Consulting. She served in a professional capacity as the President of Canadian Foundation for Dietetic Research, the Manager of Public Affairs for Dietitians of Canada and the chair of the board for the Dietitians of Canada. She was one of 40 (out of 6000 members) – who has been recognized for their capacity to promote excellence in dietetics and who have demonstrated outstanding professional growth and contributions through educational/professional enhancement, career achievements, initiative/innovation, and leadership in dietetics. She passed away in 2014. https://tindallfuneralhome.com/tribute/details/354/Mary-Sue-Waisman/obituary.html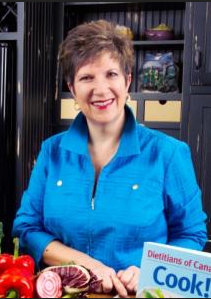 If you want a comprehensive look at healthy eating and some tips to enjoy food that is good for you, the introduction in the book has it all. Then we launch into the recipes. Although Mary Sue spearheaded this book, the recipes contained in this treasure trove came from dietitians across the country. The compilation includes everything from soup to nuts and breakfast to fine dining. I love bean salads and the recipe on page 162 includes tomatoes, balancing the starchiness of the beans with the acidity of the toms. One of many healthy and delicious dishes for you to enjoy!
Dietitians of Canada's main goal is to get Canadians eating healthy. And to assist you on that journey, they provide great resources. Download their 2022 recipe booklet at http://www.cookspiration.com/ and https://www.unlockfood.ca/en/Articles/Cooking-And-Food/Recipe-Makeover/Easy-Meals-for-Great-Leftovers-e-book.aspx to use leftovers in a more creative way.
And for more activities and resources check out https://www.dietitians.ca/DietitiansOfCanada/media/Documents/Resources/NM2022-ActivityGuide-EN-FINAL.pdf?ext=.pdf&utm_source=website&utm_medium=banner&utm_campaign=nm_2022
Although https://www.dietitians.ca/ is their main website, it is geared towards the nutritional professional. For lay people like you and me, go to www.unlockfood.ca for inspiring stories, helpful tips and great information.
To win a copy of this wonderful resource, go to our Giveaway section. If you would like to purchase the book, check out http://www.robertrose.ca/book/dietitians-canada-cook
Courtesy of Dietitians of Canada Cook! by Mary Sue Waisman, MSc, RD © 2011 www.robertrose.ca Reprinted with permission. Available where books are sold. Image credit: Colin Erricson http://www.robertrose.ca/book/dietitians-canada-cook