from Snacks author Janis Thiessen
A favourite recipe that I make often is a variation of my father's and Marcella Hazan's tomato sauce recipes:
Ingredients
¼ pound butter
½ red onion, chopped
28 oz can San Marzano tomatoes
Pasta of choice
Parmigiano Reggiano, grated
Directions

Melt a LOT of butter in a frying pan (a ¼ pound is not unreasonable) and add at least half of a chopped red onion. Sauté over medium heat until onion is translucent.
Add either a large can of San Marzano tomatoes (mash them with a fork in the pan) or some frozen homegrown tomatoes from which you've removed the skin. Stir over medium heat while you cook some pasta.
Drain the pasta when cooked and mix it into the frying pan full of sauce. Serve with grated Parmigiano Reggiano. 
Nada's Tips & Tricks: This is a very easy tomato sauce to make – quick and divine! The quality of tomatoes you use makes all the difference in the end product. You can add other vegetables to the sauce if you're feeling quirky!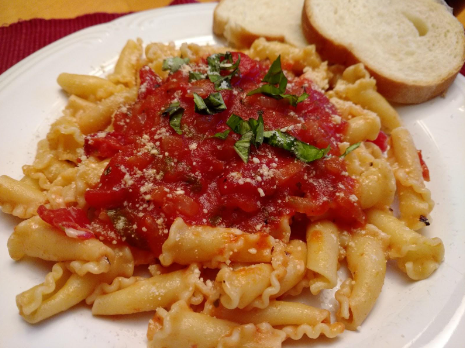 Contents used with permission by Janis Thiessen. https://janisthiessen.ca/