Do cultural-specific cookbooks intimidate you? If so, chef Chris de la Rosa is here to demystify both recipes and ingredients to assist you in producing the most amazing Caribbean dishes. The Vibrant Caribbean Pot (Vol 2) begins with stories of his home in Port of Spain, Trinidad and the rich culinary immersion of home cooking on the islands. From there, Chris teaches us the ingredients, equipment and cooking styles that every good Caribbean kitchen needs to get the best results. He introduces us to food like bitter melon, callaloo and shado beni as well as spice blends required for authentic Caribbean cooking. Then Chris educates us on how to cook our rice properly and prepare saltfish. With the basics behind us, we can now start on the most delectable island dishes. https://caribbeanpot.com/cookbook/
There's a ton of meat, vegetable and sauce dishes, but I found this Spicy Nut recipe that would be a great addition to game nights, a highlight on charcuterie boards or after-school snacks for the kids. Find it in our Recipe section and try it – so addictive with a subtle heat to keep you coming back for more.  Pack them into the kids' lunches or add them to your Thanksgiving/party munchies – I can guarantee people will be asking you for the recipe!
I asked Chris what he likes to make for family and friends: "This I had to give some thought… as in most instances it would be something with a bit of cultural significance to my Trinbagonian heritage. However lately I find that I enjoy sharing dishes/meals I appreciate. Meals which brings me comfort and more-so takes me back to being that carefree kid on the islands. So I'd have to say jerk/smoked pork belly (marinated in a herb/spicy jerk marinade, overnight), served with boiled (in herbs, scotch bonnet and coconut milk) then grilled, breadfruit (aren't we lucky in Ontario that we can source something like breadfruit in local grocery stores?)."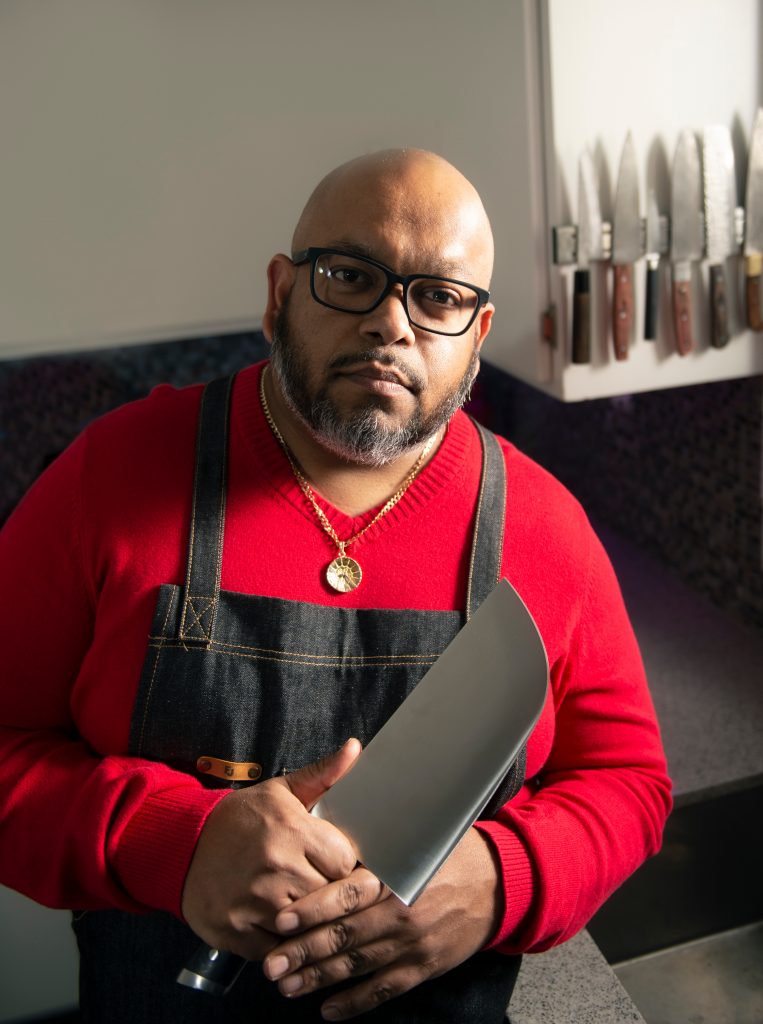 Chris has done it all in the culinary world – television, radio, travel…and he loves sharing his Caribbean dishes wherever he goes. Want to keep up with Chris' adventures? Check out his website at https://chrisdelarosa.com/ or https://caribbeanpot.com/ and his Instagram page https://www.instagram.com/caribbeanpot/ I asked Chris what his plans are moving forward: "COVID took away some of the passion I have for cooking, sharing and curating my beloved Caribbean Culture, therefore the short term objective is to rekindle that passion. Working on ME is the key to growing this into something much greater. I've already put 13+ years into building a solid foundation, so with a sense of adventure and with excitement, I approach the future." The pandemic has taken the wind out of many people's sails, but with this positive attitude, I know many of us will come back better and stronger…with a ton of passion!
Go to our Giveaway section and win one of two autographed copies of this amazingly detailed cookbook – you'll be a Caribbean cooking pro before you know it! These books have sold out, but you can purchase a digital copy at https://caribbeanpot.com/cookbook/ 
Content and images used with permission by Chris De La Rosa, Vibrant Caribbean Pot https://chrisdelarosa.com/