We met chef Ted Reader earlier this spring when we reviewed his Gastro Grilling cookbook – check it out at https://canadiancookbooks.ca/gastro-grilling/ Now we turn our attention to smoking not only meat, but vegetables, desserts and drinks…yup, you can smoke anything!
Slow and low…that's Ted's motto for smoking food. Patience is the key word while waiting for the heat and smoke to produce the most delicious foods you'll ever taste.
Ted is an expert on grills and smokers – he has over 100 of them in his backyard along with a tree full of hanging spatulas! His credentials in the barbecue world are phenomenal and you know he practices what he preaches…barbecue runs through his veins.
One myth Ted wants to dispel is that you need an expensive smoker to enjoy a great smoked product…he provides not only information on the best smokers but alternative ways to achieve similar results on the barbecue or in your oven.
Then we get into the other stuff: things like fire starters, thermometers, and gadgets for the advanced smoking guru. But start with the basics and work your way into the smoking world at your own pace and build your unique smoking repertoire. As with any kind of cooking and barbecuing, everyone has their own skill set and cooking methods. The most important rule according to Ted: have fun!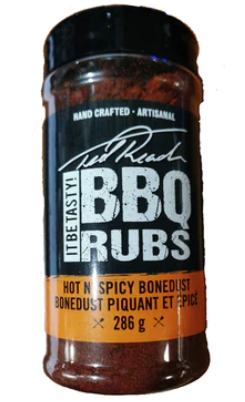 Then we get into the recipes. Ted starts you with the pre-cook process including brines, rubs, marinades, etc. before anything hits the smoker. Check out Ted's own line of products to help you on your barbecuing journey at https://rockpapermerch.com/collections/ted-reader Then of course we get all the meat recipes you'll ever need to impress your guests. And the book is completed with smoking recipes for sides, sweets and drinks. I like that many of the recipes have footnotes on how to elevate the smoke experience and tidbits on ingredients that will make a difference in the finished product. Like the Smoked Martini recipe…Ted's note is to smoke ice cubes to add to your drinks…what a brilliant idea! (You'll have to buy the book to find out how to do this great trick.)
Speaking of recipes, try Ted's take on Lamb Ribs with Garlic, Ginger, Lemon & Soy Sauce Baste in our Recipe section. I used the same sauce for both lamb and pork ribs – worked great! And we tried Ted's method of smoking the meat on the barbecue and it provided a mouthwatering tasty piece of meat.
To win a copy of this very handy guide to smoking food, go to our Giveaway section. To purchase your own book, go to https://www.penguinrandomhouse.ca/books/665229/smoking-foods-by-ted-reader/9780744029208

Contents and images used with permission by Ted Reader, Smoking Foods. https://www.tedreader.com/