As we come out of the holiday eating binges that many of us enjoy, we turn the page to a new year and remember that many people in our communities struggle to put healthy meals on the table every day. We are so thankful for organizations like FoodShare whose mission is to advocate for food justice by supporting community-based food initiatives and through ongoing advocacy and public education. https://foodshare.net/
Having worked in the not-for-profit industry for a few decades, I know how organizations struggle to raise funds to support their much-needed programs. Ten years ago, FoodShare produced this cookbook as a fundraiser that not only brings us delicious and international recipes, but stories on the impact of their programs.
Co-authors Adrienne De Francesco and Marion Kane compiled carefully selected recipes from contributors to the FoodShare program in their many capacities.  Along with the recipes, we're introduced to the agency's programs like community development, education and fresh produce procurement. Educate yourself by purchasing a copy of this book…go to https://btlbooks.com/book/share and start enjoying authentic dishes from around the world. You can also win the book in our Giveaway section.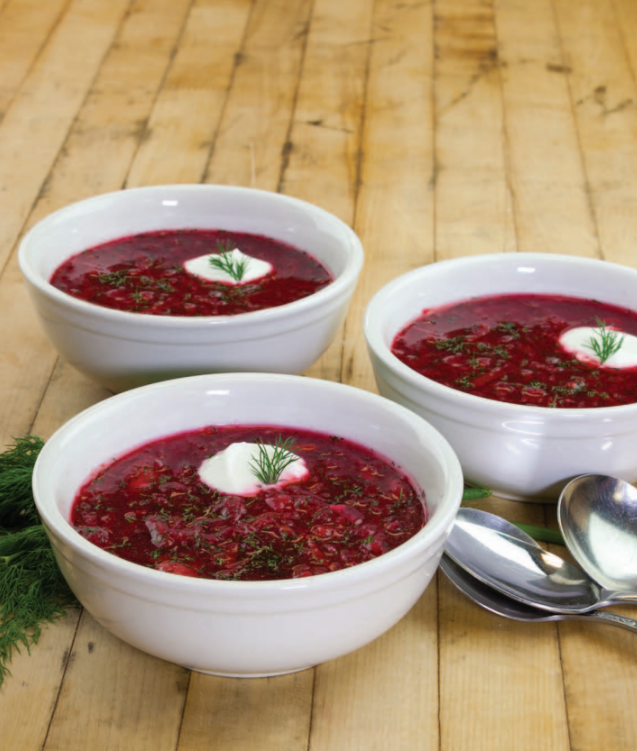 One of the recipes that caught my eye is a dish I grew up enjoying. Orthodox Christmas lands on January 6 each year and eastern Europeans around the world embark on their 12 meatless dishes throughout the day. Borscht (minus the meat) works perfectly during this celebration. From the cookbook, we give you Babu's Borscht in our Recipe section. I asked author Marion Kane for her favourite recipes – she has lots on her website – and she shared her go-to dishes: I like beef stews, Beef Stroganoff, Chicken Marbella, Asian and bean salads and Green Soup. I especially like plum and apple desserts. https://www.marionkane.com/recipes/
Celebrate Christmas all over again with this heart and body warming dish – and if you have an Orthodox church in your area, visit to experience a different culture and their traditions.
Contents and images used with permission by Between the Lines Publishing, Borscht recipe: Lori Stahlbrand and Photography by Laura Berman, GreenFuse Photos. https://btlbooks.com/book/share