from Dietitians of Canada Cooks!
Melanie Ksienski, Dietitian, Alberta
Preheat oven to 350°F (180°C)
24-cup mini muffin pan, lined with paper cups
Food processor
1⁄3 cup chopped pecans
8 oz light cream cheese
2⁄3 cup lightly packed brown sugar
1 egg
2 tsp vanilla extract
12 pecan halves, cut in half
1. Divide chopped pecans evenly among muffin cups. Set aside.
2. In food processor, process cream cheese and brown sugar for about 15 seconds or until well blended. Scrape down sides of bowl. Add egg and vanilla; process until well blended.
3. Divide cheese mixture evenly among muffin cups. Bake in preheated oven for 10 minutes or until set and small cracks form on tops of cheesecakes. Top each with 1 pecan piece. Let cool in pan on a wire rack. Cover and refrigerate for at least 3 hours, until chilled, or for up to 12 hours.
Courtesy ofDietitians of Canada Cook! by Mary Sue Waisman, MSc, RD © 2011 www.robertrose.ca Reprinted with permission. Available where books are sold. Image credit: Colin Erricson http://www.robertrose.ca/book/dietitians-canada-cook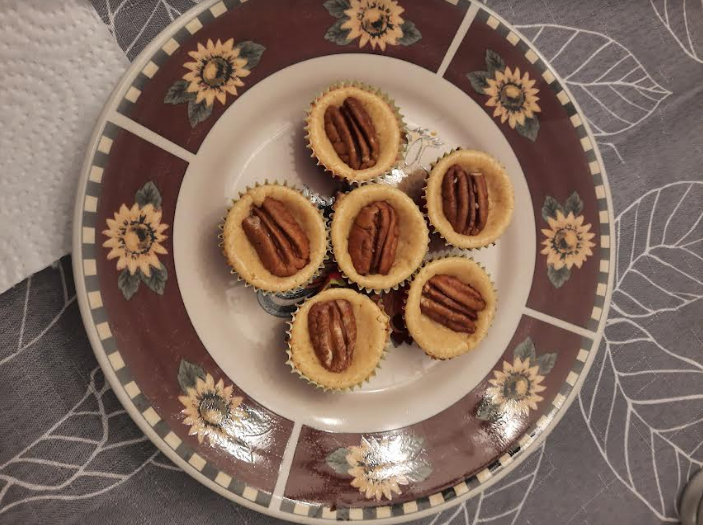 Nada's Tips & Tricks: Add the pecan after the cheesecakes are cooled. Be sure to chill them as long as possible. Mine sank when I put the pecan on top – wasn't chilled long enough. Be sparing with the chopped pecans on the bottom…too much and they don't set well.