from Newfoundland's Best Breakfasts and Brunch
Provided by Seaglass Bed & Breakfast and Studio of New Perlican, Newfoundland. While none of the early settlers to Newfoundland and Labrador were likely from Greece, this recipe from Karen and her husband, Michael, reflects their love of travel and of food and flavours from different countries. This B&B is not only a great place to stay the night, but also a working studio, where Michael can teach you how to make a stained glass piece to take home as a souvenir. The studio has an old-fashioned feel to it as it was originally Ron Jones' old General Store, and you can see the original showcases, bins and shelves, along with other treasures from days gone by. Some of Karen's award-winning photography that is on display is also on sale. https://seaglassbb.ca/
Ingredients
1 tbsp (15 mL) olive oil
1 clove garlic, chopped
½ cup (125 mL) grape tomatoes, halved
4 tbsp (60 mL) kalamata olives, pitted and sliced
4 slices bacon, cooked and crumbled (optional)
4 large eggs, beaten
¼ tsp (1 mL) sea salt
¼ tsp (1 mL) pepper
¼ cup (125 mL) feta, crumbled
Balsamic glaze (optional)
Method
Preheat the oven on the broil setting (5 to 10 minutes).
Heat oil in a non-stick or cast iron 12-inch (30 cm) pan. Sauté garlic for approximately 30 seconds, then add tomatoes, olives and cooked bacon (optional).
In separate bowl, beat eggs, salt and pepper and pour over pan ingredients. Reduce heat and let cook for 5 minutes. Sprinkle feta cheese over egg mixture.
Place in the oven on broil for 5 to 7 minutes or until lightly browned. Remove and serve with fresh fruit and toast and drizzle with balsamic glaze (optional).
Makes 2 servings
Nada's Tips & Tricks: This is a healthy and tasty dish perfect for brunches and lunches…or pair it with a Greek kabob and you have a full meal. Play with the ingredients to come up with a flavour profile perfect for you…it's a versatile recipe!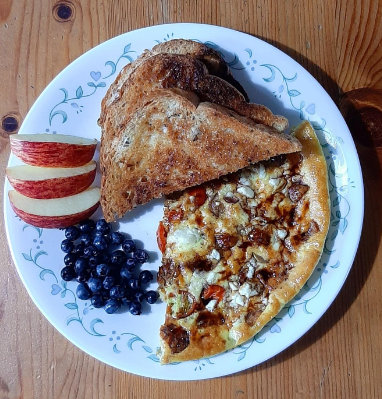 Content and images used with permission by Formac Publishing Limited. https://formac.ca/product/newfoundlands-best-breakfasts-and-brunch/ and Seaglass B&B and Studio https://seaglassbb.ca/