from the Cooking School with the London Chef
This recipe uses spot prawns which are only in season for a short window – you can substitute any kid of prawn for this recipe and it will work out just fine.
Ingredients
12 whole spot prawns or 24 tails, ideally shell on (the shells are the best part)
1 bunch flat leaf parsley
5 cloves garlic, peeled
½ tsp dry red chili flakes
Baguette
Olive oil
Salt
Directions
Pre-heat oven to 400. Once heated turn off and put bread in and leave there while you are cooking – this is an easy way to warm bread. Don't open oven until ready to serve.
Roughly chop garlic and parsley leaves and combine on your cutting board. Continue to chop together until finely chopped and well mixed – this is called a picada.
Heat frying pan on high heat with a few glugs of olive oil. Carefully put the prawns into the hot oil. Sautee for 3 or so minutes until starting to turn pink. Add in picada and chili and mix. Season with salt – start with 2 generous pinches, and then to taste. Turn off heat and as it cools down add a little more olive oil to loosen the sauce.
Take bread out of oven and serve right away with lots of cold wine. This is a great dish to put in the middle of table and enjoy family style.
Two notes:
If your prawns are shell on make sure to save them – they can be frozen and used to make stock or soup at another time.
Nada's Tips & Tricks: What an easy but delectable dish – simple enough for busy weekday dinners but you can fancy it up for those special occasions.  Adjust the chili flakes to the heat level you like…for me, the hotter, the merrier!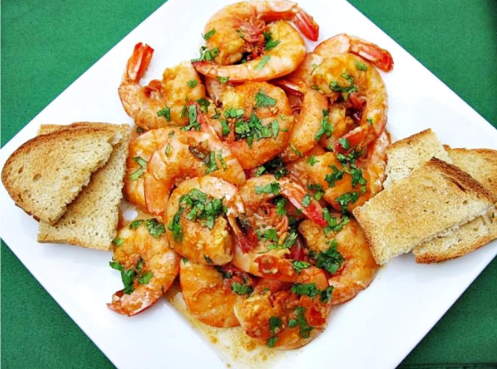 The recipe is contributed by Chef Dan Hayes, founder of Cooking School, Canada's first online cooking school with a mission to inspire people to enjoy cooking! Follow Dan @TheLondonChef.