from A Rising Tide
Good food doesn't need to be complicated, and fiddleheads are a prime example. Whether you've sauteed them in olive oil with salt and pepper, tossed with some scrambled eggs, or added them to a creamy soup, these glorious little green buds epitomize the value of simplicity. These fritters are one of our favourite ways to enjoy fiddleheads. They're delicious dunked in a softly spiced golden yogurt that complements the fresh green bite of the fiddleheads hidden inside.
Serves 4
Enjoy with Red Rover Craft Cider's Spring Cider
Ingredients
Fiddlehead Fritters:
1 cup flour
1 tsp baking powder
1 tsp fine sea salt
½ tsp black pepper
½ tsp paprika
1/ cup diced onion
½ cup milk
1 ½ cups trimmed fiddleheads, blanched
Neutral oil, for frying
Golden Yogurt:
¼ cup Greek yogurt
1 Tbsp lime juice
1 Tbsp ground turmeric
1 tsp ground cumin
½ tsp ground coriander
½ tsp fine sea salt
Directions
For the fiddlehead fritters:
In a large mixing bowl, whisk together the flour, baking powder, salt, pepper and paprika. Add the onion and toss until the onion is well coated with the flour mixture. Stirring constantly, slowly add the milk to form a thick batter. Gently fold in the fiddleheads until they are just coated in the batter.
In a heavy-bottomed skillet or pot over medium-high heat, heat 2 inches of oil to 375F, using a candy thermometer to monitor the temperature. Turn down the heat to medium when the oil reaches temperature, to prevent it from getting too hot. Using two spoons, gently place three to four fritters in the hot oil. Using tongs, nudge the fritters to ensure they have space to move, aren't overcrowded, and aren't sticking to the bottom of the pan. Allow to cook for between 60 and 90 seconds before flipping. They will be golden brown. Cook for 1 more minute or so, then transfer to a wire rack with parchment paper underneath it and allow any excess oil to drip off. Repeat with the remaining fritters.
For the golden yogurt:
In a small bowl, whisk together all of the yogurt ingredients until smooth.
Serve the fritters on a platter with the yogurt on the side.
Storage:
The fritters are best enjoyed the day they are made., although they will keep in an airtight container in the fridge for up to 3 days. The yogurt will keep in an airtight container in the fridge for up to 5 days.
Note:
As fiddleheads are foraged wild, here is an outline to safely prepare them for eating:
Remove the brown husk from the fiddleheads and trim the ends.
Rinse thoroughly in cold water, to remove any dirt and extra bits of husk.
Bring a lot of water to a rolling boil and prepare an ice bath.
Blanch the fiddleheads for 15 minutes. Drain the fiddleheads, discarding the boiling water, and immediately place fiddleheads in ice bath to stop them from cooking.
Use as directed in recipe, or place in freezer bags and freeze to preserve for up to a year.
Nada's Tips & Tricks: I've begun to find fiddleheads in local produce markets and even chain supermarkets lately. Look for them in the spring and enjoy their unique taste while they last!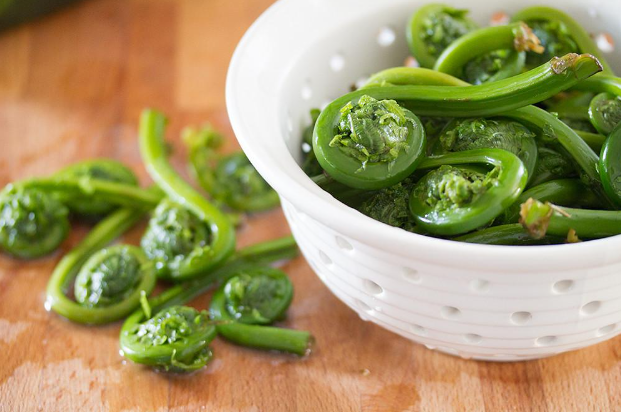 Excerpted from A Rising Tide by DL Acken and Emily Lycopolus. Copyright © 2021 DL Acken and Emily Lycopolus. Published by Appetite by Random House®, a division of Penguin Random House Canada Limited. Reproduced by arrangement with the Publisher. All rights reserved. https://oliveoilcritic.com/product/a-rising-tide/