from Catharine Parr Traill's "The Female Emigrant Guide"
These are maple-flavoured shortbreads. For us, this is a true Canadian cake, one that was "common", or ordinary, in the backwoods. The maple sugar adds an unusual taste that is at first indefinable, especially when combined with caraway. Some people don't like the taste of caraways, so you can omit them, perhaps substituting "any spice you may have"; nutmeg and maple make a nice combination. The cakes are good as an accompaniment to hot milky tea.
Yield: about 48 cakes of 2" diameter
When saleratus was used, it was dissolved in a tiny amount of water, but that's not necessary with modern baking soda. If you use salted butter, don't add the teaspoon of salt.
Ingredients:
1 ¼ cups maple sugar
¼ cup warm water
4 cups flour – whole wheat, white, or a mix
1 teaspoon baking soda
1 teaspoon salt
1 tablespoon caraway seeds (or freshly powdered caraway)
1 ½ cups soft unsalted butter
Directions:
In a small bowl, dissolve the maple sugar in the warm water.
Measure the flour, baking soda, salt and spice into a large bowl. Blend together. Using your fingertips, lightly rub the butter into the flour mixture.  Make a well in the centre.
Pour the maple sugar and water mixture into the buttery flour mixture.  Blend well and knead lightly until the dough forms a nice ball.  Divide into three smaller sections.  You can refrigerate two as you work with the third, which Traill, of course, would not have done.
Roll out on a lightly floured surface until about ¼" thick.  Cut out with a tumbler (drinking glass) or cookie cutter of 2" diameter.  Repeat with the remaining dough.
Either bake at medium heat in an ungreased iron frying pan on the stovetop until lightly browned, then flip and bake on the other side, from 10-12 minutes altogether, OR, bake on a cookie sheet lined with parchment paper in a pre-heated oven of 350F for 18-20 minutes or until nicely golden.  You can flip them halfway through if you like, but it is not necessary.
Content and images used with permission by authors Fiona Lucas and Nathalie Cooke. https://www.mqup.ca/catharine-parr-traill—s-the-female-emigrant-s-guide-products-9780773549296.php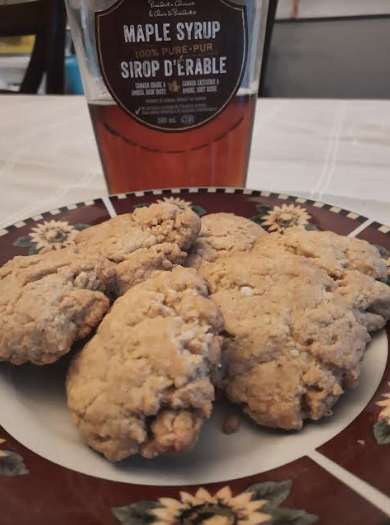 Nada's Tips & Tricks: I'm the only one in the family that likes caraway so used nutmeg instead. I had the kids shape the cookies so they weren't cookie cutter perfect. These are great for dunking in tea or slathered with jam or cream cheese.