from The Long Table
Every carbohydrate or bread lover's dream has come true in this celebration of all things caramelized and whole grain. It is an impeccable combination of sweet, sour, savoury, salty and peppery!
Serves 6
Preparation Time: 1 hour 40 minutes
Cooking Time: 45 minutes
Equipment: one 8 x 8 pan
Ingredients
Focaccia:
2 ¼ tsp (11 mL) active dry yeast
¾ cup + 2 Tbsp (210 mL) lukewarm water, 105-115F (49-55C)
¼ tsp (1 mL) honey
1 cup (250 mL) whole grain flour
1 cup + 1 Tbsp (265 mL) spelt flour
3 Tbsp (45 mL) extra-virgin olive oil
½ tsp (2.5 mL) kosher salt
Toppings:
3 Tbsp (45 mL) extra-virgin olive oil, divided
2 cups (500 mL) thinly sliced onions (about 1 large onion)
1 ¼ cups (310 mL) thinly sliced Bosc pear (about 1 pear)
3 cups (750 mL) arugula
Balsamic Reduction:
½ cup (125 mL) balsamic vinegar
2 tsp (10 mL) honey
Directions:
Preheat an oven to 450°F (220°C). Grease pans, line with parchment paper and then grease parchment paper.
In a small bowl, combine yeast, water and honey and stir to dissolve the honey. Set aside for 5 minutes in a draft-free place.
In a medium bowl, sift the two flours together. Set aside.
In the bowl of a stand mixer, add the yeast mixture, the oil and half of the flour. With a dough hook attachment, knead the dough for 5 minutes on medium speed.
Add the remaining flour and salt and knead another 5 minutes, until a ball forms and the dough has released from the side of the bowl.
Transfer the dough to a lightly oiled bowl. Cover with plastic wrap and let rest 1 hour in a warm, draft-free place.
Meanwhile, prepare the toppings. In a sauté pan over medium-low heat add 1 tbsp oil for 6 servings and ¼ cup oil for 24 servings. Once heated, add sliced onions. Stir occasionally until onions are caramelized, about 30 minutes (1 hour for 24 servings). Remove from heat and set aside to cool.
To make the reduction, in a small saucepan over medium-high heat, combine vinegar and honey and bring to a boil. Lower heat and simmer until vinegar has reduced by half or is thick enough to coat the back of a spoon, about 7-10 minutes. Set aside to cool and thicken further.
In a large bowl, gently toss sliced pears with 1 tbsp of oil for 6 servings or ¼ cup for 24 servings.
Transfer dough to prepared baking pan and spread to the pan's edges. Cover with plastic wrap and allow to rest for 20 minutes or until dough almost fully bounces back when gently pressed.
Poke holes into the top of the dough using your fingers. Brush the remaining oil over the dough. Evenly scatter caramelized onions followed by the pears on top. Bake for 30 minutes or until edges are golden.
Remove from oven and allow to cool on a rack. When ready to serve, scatter arugula on top and drizzle balsamic reduction. Cut into 6 or 24 slices and serve immediately.
Tip:
If the dough is too dry, add 1 tsp of water at a time. If it is too wet, add 1 tsp flour until dough ball forms and it no longer sticks to the sides of the bowl.

Nada's Tips & Tricks:  Caramelized onion makes anything so much better and that's true of this recipe. A great lunch with a crisp Riesling or perfect addition to chicken wings or kebabs for a fuller meal. In a hurry? Pick up a foccacia at your local grocer and proceed…not as fresh as homemade but it will do in a pinch.  Amy also provides each recipe with instructions for 24 servings…but you'll have to buy the book to get her secrets!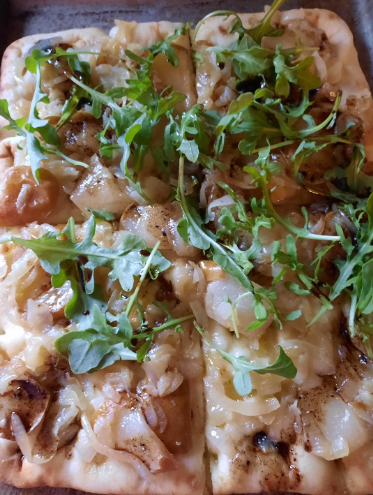 Excerpted from The Long Table Cookbook: Plant-based Recipes for Optimal Health – Nourishing food for small and large gatherings, by Amy Symington©. 2019. Photography by Darren Kemper©. Published by Douglas & McIntyre. https://douglas-mcintyre.com/products/9781771622271